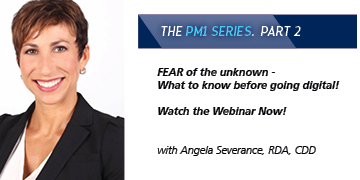 FEAR of the unknown - What to know before going digital!
Making a major equipment investment for your dental practice is never an easy decision, especially if that investment means you and your team must adopt and adapt to new processes and protocols. Many times, the fear of the unknown becomes the major obstacle to overcome. This is particularly true if your practice is considering taking the onramp to the digital chairside highway. Implementation, cost, learning curve, benefits, education, training and support are just a few of the questions and unknowns that you and your team need to understand to prepare your practice for the digital transition and for implementation success.
In this webinar presentation "What To Know! Before You Go… To Digital Dentistry" Angela Severance, CAD/CAM Implementation Specialist, Ivoclar Vivadent, takes you on a beginning-to-end journey through all phases of transitioning to digital dentistry. She shares her knowledge and vast experience based on two decades as a dental assistant and 15 years experience working with CAD/CAM dentistry as a CAD/CAM Implementation Specialist and Success Manager, offering proactive clinical customer training and support for hundreds of dental offices around the country on how to successfully implement CAD/CAM dentistry into their practices.

Watch the Webinar now!
---
Interested in finding out more on Integrating CAD/CAM into your practice?
---
The PM1 Series is a 6 piece series throughout the month of November and December; A Compilation of resources, education, success stories and information all pertaining to the new PrograMill One milling system. Stay tuned for more to come!