Get Ivotion Ready! What you need to know.
Get your laboratory prepared to experience the production efficiency, predictability and high-quality esthetics you can achieve with the Ivotion Denture System. This all-you-need-to-know toolkit provides checklists, downloads and links to critical information you will need to ensure your laboratory is Ivotion ready!
Download the handy checklist detailing software and hardware requirements you will need to get you started from 3Shape CAD software to PrograMill or Zenotec CAM updates and upgrades. Helpful links below highlight the advantages and features of the Ivotion bi-colored single disc milling solution with its revolutionary shell geometry as well as efficient CAD design strategies for customizing individual teeth for patient-specific dentures and the seamless milling process that produces a single arch in one uninterrupted milling process.


Get started now and get your laboratory Ivotion ready!
---
3Shape Scanner & CAD 20.1 software
Contact your 3Shape reseller to ensure your software is up to date with the latest 20.1 software.Click here to learn more about 3Shape lab scanners and the software programs.
---

PrograMill CAM software
Contact your local Ivoclar Vivadent representative or call our helpdesk at 1-800-533-6825 (option 4) to discuss your current software and how to update it to CAM V4.1
---

Ivotion Denture Tooth Library
Ivoclar digital denture add-on customers receive these libraries in the
20.1 software upgrade with 3shape.

These libraries can also be purchased separately.
Contact your Ivoclar Vivadent sales representative to inquire.
---

A PrograMill System or Zenotec Select
The Ivotion Denture tooth Library and Ivotion material will mill in the PrograMill PM7, PM5, PM3 or Zenotec Select.
---

PrograMill Tools
The PrograMill and Zenotec Select will require the correct denture holder ring in order to mill the larger Ivotion disk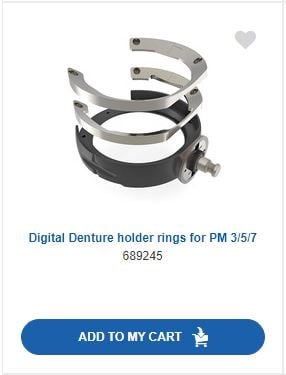 Three Ways to Buy:
1. Contact your local Ivoclar Vivadent Representative.
Not sure who to call? Find out here!
2. Shop online at the Ivoclar Vivadent Labshop.
3. Contact our customer service line who will be able to assist you! 800-533-6825 or IVonline.us@ivoclarvivadent.com
---
Get Ivotion ready and download the Checklist below!
---
---
The Ivotion Series is a 6 piece series throughout the month of September; A Compilation of resources, education, success stories and information all pertaining to the new Ivotion Monolithic Denture System. Stay tuned for more excitement to come!