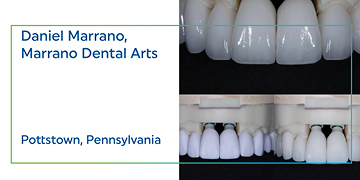 My e.max Story; An Interview with Daniel Marrano, CDT
Daniel Marrano, CDT, TE has a Bachelors degree in Biology and an Associates in Dental Lab Technology. He has more than 17 years in dental experience. In 2009, he became a Certified Dental Technologist specializing in crown and bridge. In 2014, he enhanced his CDT by receiving the designation as CDT Technologist.

He started working in Buffalo, NY at his Uncle's dental office for two years while in lab school. Here is where he learned about the importance of communication between technicians and the dentists. Since then he has made this a point of emphasis for his lab. His brother, Jack Marrano, CDT inspired him as a dental technician and played a huge role for his career success.
Tell us about your Lab :
Marrano Dental Arts was established in 2013. Our lab is located in Pottstown, PA. We are a fully digital lab since 2015, utilizing high end digital equipment with high end materials to make the best restorations we can. Combined with a great team who is dedicated, hard working and committed to skills development; we strive to raise the bar. We work to build relationships with our dental offices which helps with communication and ultimately results in the best restorations for the patients. We are proud of the service we provide and the restorations we fabricate.
For how long you have been using IPS e.max, which products do you use and why you make it emax?
We have been using e.max for 15 Years. We have used all the e.max line because it is universal. Some of the e.max products we use are: e.max press, e.max cad, e.max ceram, MT Multi and e.max ZirCAD Prime.

Why do you prefer to make it emax?
We prefer e.max for several reasons; predictability, esthetics, reliability, versatility, strength, shade accuracy - when we chose e.max we know we can count on its high esthetics, high strength and long-term success.

How many failures have you had with IPS e.max?
Honestly since 2013 we've only had 2 failures after cementation, that's 99.99% success! That's why we count on e.max!

What reaction do you get from your dentist when you fabricate e.max restorations?
Dentists have confidence in esthetics and reliability when they prescribe emax. They know they will get the highest quality restoration.
What are your plans for this summer with the the Big Green Egg BBQ you won by participating in the #makeitemax Raffle?
My plans are to cook glorious meat. I already made pulled pork this weekend, it was fantastic and great to use.
Any other closing remarks you'd like to add regarding IPS e.max or even Ivoclar?
e.max has been our go to material for 15 years. That kind of success can never be rivaled by other materials. Ivoclar has always been a top organization providing high end materials and equipment. And because materials and equipment are so great we rarely need it but if we do Ivoclar support is always there for us.
"We make it e.max for several reasons: predictability, esthetics, reliability, versatility, strength and shade accuracy"
IPS e.max CAD Restoration
Daniel Marrano, CDT,
Marrano Dental Arts
1804 Honeysuckle Ln
Pottstown PA 19465
dan@marranodentalarts.com
Tel: 610-563-4253
---
The #makeitemax contest has now closed and we would like to thank everyone who shared their #makeitemax stories with us! We couldnt be happier seeing all of the amazing stories and cases come through. If you'd like to see the full list of winners and their winning posts, please click here.