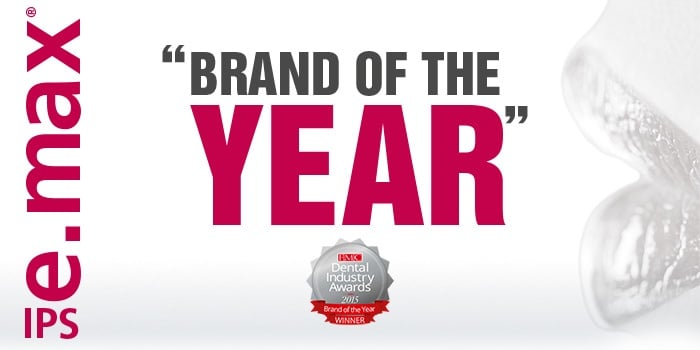 IPS e.max wins Brand of the Year in the UK
A fantastic success for IPS e.max: Ivoclar Vivadent's popular all-ceramic system has been awarded Brand of the Year in a competition in the UK.
The FMC Dental Industry Awards have been created to recognize progress, effort and enterprise in the dental industry. FMC is a renowned UK based dental publishing and communications company.
Independent panel of judges recognizes quality and service
With its decision, the independent panel of judges acknowledged the quality and versatility of the IPS e.max product system. The panel recognized the way Ivoclar Vivadent offers a complete system covering the entire treatment process including preparation, restoration, processing, finishing, placement and maintenance. The panel also acknowledged the efforts of Ivoclar Vivadent in the area of Research & Development (current example: IPS e.max Press Multi ingot, launched in 2014). And that's not all: in addition to its products, Ivoclar Vivadent offers a comprehensive program of further education, information and services. Here, the company's offering comprises roadshows, a microsite, the global IPS e.max Smile Award, printed informational materials and contributions on social media. In England alone, a team of 50 employees including a strong field sales force strives to provide customers with an excellent service. IPS e.max winning the Brand of the Year award proves that users make a good choice by buying this product.

Materials for press and CAD/CAM technologies
IPS e.max comprises highly esthetic high-strength materials for the press and CAD/CAM technologies. Within ten years, it has become one of the world's most popular and widely used all-ceramic systems. Numerous clinical studies and more than a 100 million fabricated restorations are an impressive testament to the success and reliability of this system.
Learn more about our six brand new products for the fabrication of ceramic restorations. Watch the video now and register to get the latest product information!